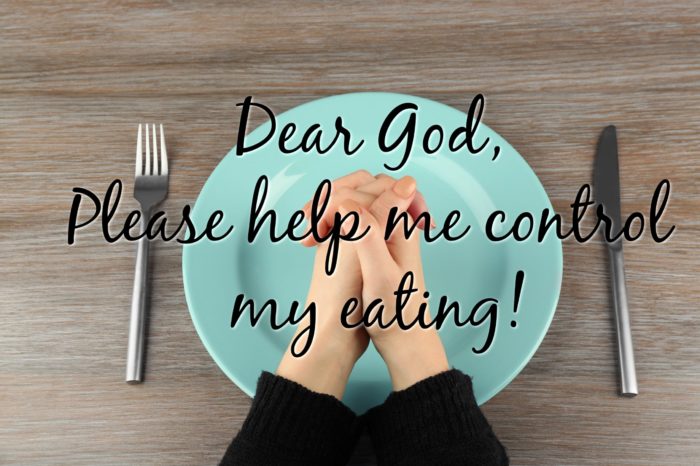 Dear God,
Please help me control my eating! How is it that I love you and believe the power of the Holy Spirit lives in me and yet I struggle day after day to eat moderate amounts of healthy food consistently? What's wrong with me? Will I ever gain victory in this area of my life?
Does this sound like you somedays?
Defeated.
Discouraged.
Dismayed.
You are not alone. As seasoned health and weight loss coaches, we've discovered that most Christian women struggle like this. And, we've had our own personal battles with food and our bodies. But we're here to tell you – there is hope! We've discovered lasting victory in our own lives and helped many women do the same using the principles from our Eat Live Thrive Diet and biblical principles to renew the mind, change habits, and walk in the Spirit so that you are not constantly waging a war in the battle of your flesh.
Jesus taught his disciples to pray what we call the Lord's prayer. Within that prayer, there are elements we can apply to our daily prayer and practices that will slowly but surely help us become "transformed by the renewing of our minds" (Romans 12:2) and realize our health and weight loss goals in a way that honors God. We can train ourselves to respond in healthier ways to food and the temptation to eat empty calories.
Will these changes happen overnight? They will not. Just as you grow in your faith and knowledge of Jesus day after day when you spend time in prayer and in His word – your lifestyle will also transform gradually. You will in essence create a new and more liberating "automatic pilot" that will drive both your emotions and your habits. However, most of us cannot do this well alone. God designed us for relationship and community. We become like those people we surround ourselves with. So, surround yourself with positive, like-minded women and coaches that "get you".  We know just how difficult this seemingly unrelenting battle of the flesh can be.
Here are a few daily steps you can take right now to begin the transformation process:
Start your day in the Word and in prayer. Yes, God already knows your struggle, but He wants you to run to him for wisdom, strength, and hope.
Identify some of the lies you believe that are holding you back from long-term change. Do you really believe you can lose weight and get healthier? Do you really believe you have the self-control or discipline to change your habits? It is essential to know you can and change your thinking to reflect this. When you catch yourself in believing those lies, call them out saying, "That's a lie!"
Memorize and say one or two of these paraphrased scriptures below to help you begin the process of rewiring your mind related to your lifestyle. Repeat them several times per day, ideally out loud.
As a first step to improve your health and begin to lose weight consider simply giving up all added sugar and grains for 14 days. This is what we call "Level 1" of our Eat Live Thrive Diet "Elimination Phase". Trust us, this one small step can add up and truly jumpstart your metabolism and weight loss.
We encourage you to consider joining our biblical health and weight loss coaching program, EAT LIVE THRIVE ACADEMY (our book is included) where you'll have daily access to us in a private Facebook group and up to three times per week in our live coaching sessions. Plus, there are lots of other resources and benefits.  If you were to hire a personal nutritionist or health coach, you'd likely pay $75 to $150 per week. Most of us cannot afford that luxury.  Our Eat Live Thrive Academy is offered for a very affordable price either monthly or annually.
If you're tired feeling Defeated, Discouraged, and Dismayed, we're here to give you the support, education, encouragement, and biblical coaching you need to realize a lasting break through once and for all.
A DAILY PRAYER: 
Heavenly Father, 
You know how much I've struggled to lose weight and improve my health. Please help me to turn to you in my times of frustration and temptation and know that y0ur power is sufficient in my weakness. Guide me into the right eating and lifestyle plan that will work well for me. Show me how I can walk in Your Spirit rather than fulfill my flesh and to find lasting satisfaction in celebrating life without always making it about food. Help me to give myself the same grace you give me in my daily walk with you. My desire it to present my body as a living sacrifice, holy and pleasing to You. I know this is a way I can worship You and honor You.
In Jesus' name, amen. 
FOR EAT LIVE THRIVE ACADEMY INFORMATION OR TO ENROLL CLICK BELOW
Whether I eat or drink or whatever I do, I do it all to the glory of God.  1Corinthians 10:31
Give me this day my daily bread and help me to be satisfied when I've eaten a reasonable amount. Lead my not into temptation, but deliver me from my own cravings and desire for empty calories.  Matthew 6: 11-12
I can do all things – even control my cravings and eat healthfully – because of Christ who strengthens me.Philippians 4:13
I do not have to be strong in my own power because God says, "My grace is sufficient for you, for my power is made perfect in weakness."  2Corinthians 12:9
EAT LIVE THRIVE ACADEMY
Biblical Health & Weight-Loss Coaching 
Are you a woman that has struggled year after year to change your habits, improve your health, and drop excess weight?
We invite you to journey with us through our Eat Live Thrive Diet and discover your best health, best vitality, and best body no matter what your age using our powerful and biblical coaching program – Eat Live Thrive Academy. We've realized our own victory over food, weight, and body challenges and have coached thousands of women through our program. As "mature" Christian health coaches with over 50 years of experience between us – we have been blessed to see so many fantastic breakthroughs. Isn't it time that you discover your breakthrough?
It is our hope that our biblical coaching program – EAT LIVE THRIVE ACADEMY – based on our Eat Live Thrive Diet – will help you not only find the right eating plan customized just for you – but also discover some mental, emotional, and spiritual insights that can break the chains that are keeping you in bondage.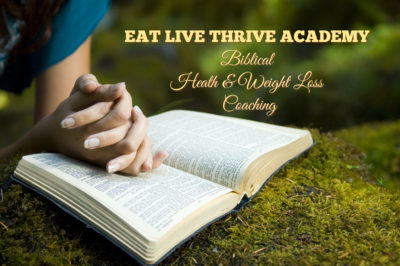 Jenni, Debi & Sandi have sustained weight loss! 
Here's what members are saying about
Eat Live Thrive Academy
"Our Eat Live Thrive coaches, Danna & Robyn rock! The Academy provides a very personal experience for all our life struggles…weight, health, menopause, and even sometimes beauty advice! It feels like we're just a bunch of girlfriends going through all of this together!"
—TRACEY RENAUD
"The Eat Live Thrive Academy gives me the coaching and encouragement I need to be my healthiest self and the accountability to stick with my good choices."
—DIANA METZ
"The Eat Live Thrive Academy has provided me with the tools, resources, account- ability and support I need to make healthy changes in my life."
—TRACEY REYNOLDS
"I've lost over 24 pounds with the Eat Live Thrive Diet. For me, the Academy is my one-stop shop with a wide variety of support ranging from diet and exercise to supplements, skincare and even some fashion advice on occasion!"
—SANDI FEENEY
"The Academy has brought me out of my isolation and feeling like no one cares. Danna and Robyn do care and provide excellent resources, support, encouragement and accountability for me to be to best me I can be through healthy life-style choices." 
—SHELLEY ARNSTAD